What if people had their needs written all over them?
Since "needtags" aren't really an option, there's Everything DiSC® learning tools based on the third generation of the research-validated DiSC® assessment.

Everything DiSC® gives everyone in your organization a common language that helps build more effective working relationships. Everything DiSC® is an intuitive and useful model that people can get their heads around - fast. The Everything DiSC® Workplace™ products offer unlimited access to to the Everything DiSC® Comparison Reports™ - the most powerful follow-up tool available.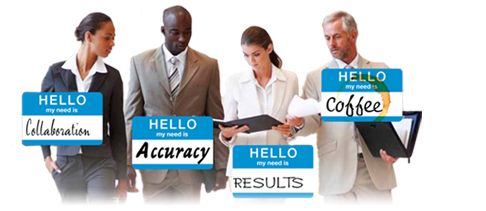 A solution for every challenge.
Laurie Sudbrink, President and Founder of Unlimited Coaching Solutions, is certified in DiSC® with over 20 years of experience.
Everything DiSC® Workplace® Profile
Build better relationships — one at a time. This tool can be used with everyone in an organization, regardless of title or role, to improve the quality of the workplace. Participants understand and appreciate the styles of the people they work with. The result is more effective and productive working relationships.
NEW! (Click here for Slideshow!)
Everything DiSC® Productive Conflict
Transform uncomfortable encounters into stronger relationships. This tool
provides an in-depth report
that highlights techniques to improve self-awareness and actions
around conflict behaviors. Anyone in an organization, regardless of title or role, will improve the quality of their workplace relationships.
Everything DiSC® Work of Leaders®
Approach leadership as a one-to-many relationship, as opposed to the one-to-one relationship of management. This tool focuses on tangible steps directed at leading a group or organization toward desired outcomes. Using the framework of Vision, Alignment, and Execution, Work of Leaders encourages leaders to understand their own leadership behaviors and how they impact their effectiveness. Rich, compelling narrative adds depth to the data and strong visuals support the learning process by illustrating key messages.
Everything DiSC® 363 for Leaders (360 Feedback)
The best of 360-degree feedback with the simplicity and power of DiSC® , plus three strategies for improving leadership effectiveness. The result is a 360 experience that's more productive and satisfying. Using CommentSmart, our exclusive selectable comments feature, raters choose from pre-written, highly-tested comments, giving feedback that's focused, balanced and constructive. Clear visuals and a conversational narrative style make the profile easier to use and understand. Plus, leaders get their next steps with the three things they can focus on now for improving leadership effectiveness.
Everything DiSC® Management Profile
Help managers discover how to bring out the best in each employee. This tool is the most in-depth and easily customizable management training solution available. Everything DiSC® Management increases effectiveness using personalized learning to help managers develop their management style, improve communication and delegation, and increase employee engagement.
Everything DiSC® Sales Profile
Help your salespeople learn how to connect better with their customers and close more sales. Everything DiSC Sales increases sales effectiveness using the power of DiSC®. This tool combines online prework and online follow-up reinforcement to create a complete sales training experience.